SOFTWARE

AnalyzeIt Windows Interface

API Programming Interface

Silicon Control Inc.    1020 Milwaukee Ave.  Deerfield, IL 60015    p.(847) 215-7947    f.(847) 808-9090    info@silicon-control.com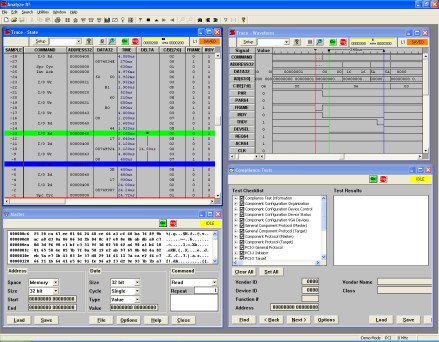 Windows and API User Interfaces

All of Silicon Control's analyzers include our AnalyzeIt windowed interface software that seamlessly connects the user and the analyzer and our API programming interface.

AnalyzeIt Software

Our AnalyzeIt software is the ultimate user interface for the control and display of analyzer setups and data. Open multiple windows for state, waveform, master, stimulus,  performance analysis, compliance testing, target memory and configuration scanning. Each window has its own controls, (Stop, Go, Setup) so every feature can operate independently. Change displays to fit your application by moving signals, changing bases and colors, defining grouped signals and much more.

API Software

Our API software interface provides for the direct control of the analyzer through your own application. Link the API library with your C code to customize analyzer functionality. The API software package includes source code, binary executable, sample code and documentation.

Software Included with Every Analyzer

The AnalyzeIt windowed interface software and API programming interface software package are included with each analyzer at no charge.

Click on the tabs above to get more detailed information on our AnalyzeIt and API software.